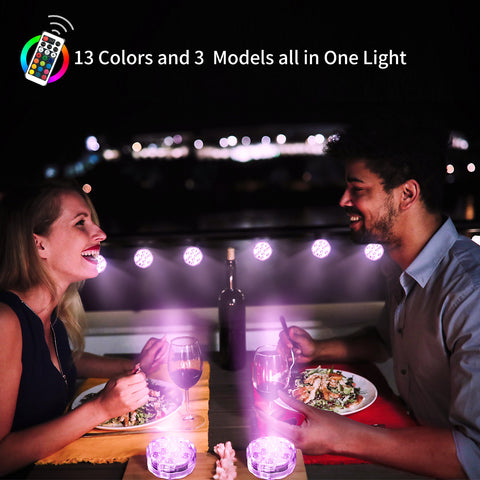 Multi-Colored Submersible Led Lights with Remote
This waterproof led light has 10 led, 16 colors, 4 modes, can be turned on or off by remote control.
It works well in both dry and wet places, suitable for decorating all kinds of parties, Christmas, Halloween, weddings, stages, discos, bar, jewelry stores, park, garden, park, courtyard, showrooms, showcases, cabinets, museums, shops, aquariums, fish tanks, fountains, pool, bathtub, hot tub, and other occasions.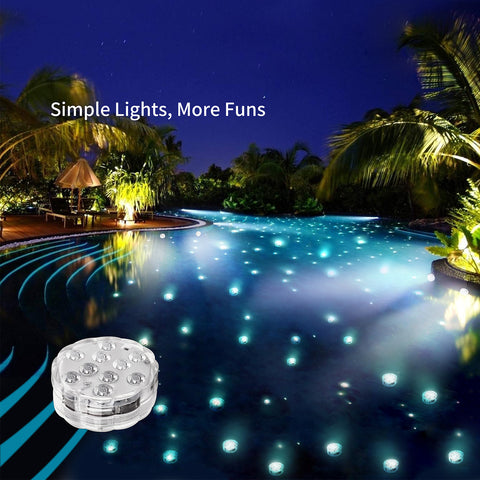 Note:
- The remote is not waterproof, please keep the remote dry from water.
- The signal range of the remote is 3-10 meters in the air and 1-1.5 meter underwater.
- Please make sure the sealing ring is undamaged.
- Please twist the light until it can not be twisted any further before putting these pool lights into the water!!!
IR Remote Controlled Lights:
13 Changing Colors: you can use the remote control to select single static color, such as Red (R), Green (G), Blue (B), White (W), and other mixed colors.
10 Brightness Level: Press Up or Down button to increase or reduce the brightness of static lighting.
4 Dynamic Color Changing Modes: Flash, Strobe, Fade, Smooth, create a sweet and fantasy atmosphere.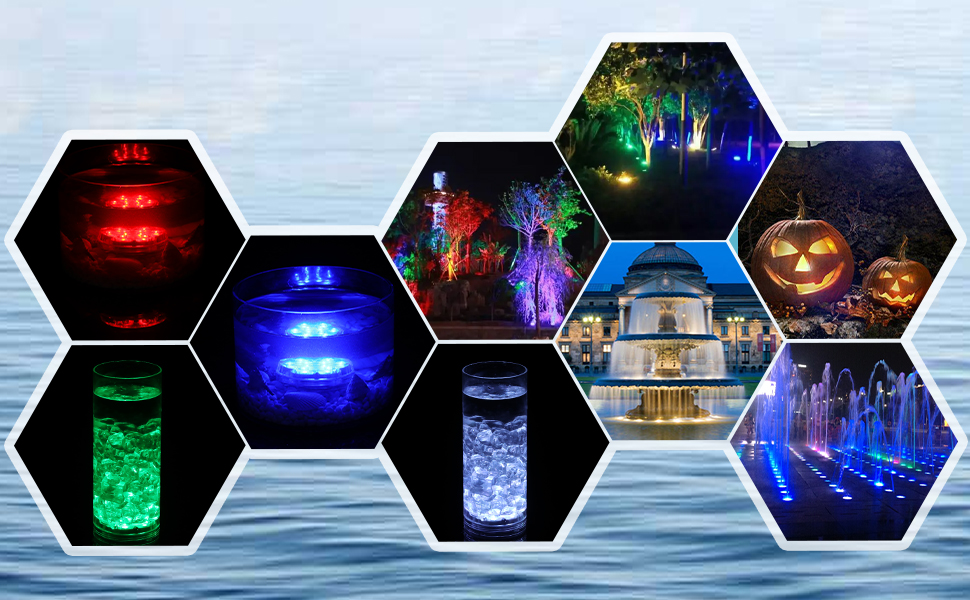 Warm Tips:
1. Remove the insulation film from the bottom of the remote before use.
2. Remote is not waterproof, please keep away from water.
3. Please take out the battery cells after each use, to ensure the battery safety and durability.
4. To prevent water get in, please check and make sure the water proof ring is well positioned and screw up the fixture tightly before submerge in water.
| | | |
| --- | --- | --- |
| | Sealing Ring | Multiple Application |