Our 3-Heads Solar LED Light System features super-bright LEDs that will light up the dark in a matter of seconds. Designed and build for a wide range of lighting applications such as commercial, industrial and home buildings, parking lots, streets, pathways, playgrounds, farms, parks, garages, backyards, gardens, patios and etc.
You can install it anywhere because it's wireless and you never need to worry about electricity, it's solar-powered with improved battery storage.
Why this Solar Led Light System:
No wires or electrical power
Eco Friendly
Fast and Easy DIY Installation in minutes
3 x Solar Panels
Improved Batteries
Super Bright 648 LEDs
Up to 16 hours usage with 6-8 hours charging during the day
IP65 Weatherproof Materials: Weather-resistant, rustproof, heavy-duty resin frame provides extra reliability and durability, especially in humid climates and coastal communities.
Color Temperature: White light 6000K
3 Build-in Modes
Motion Sensor
Smart Light Sensor
Remote Control
Durability over 5 years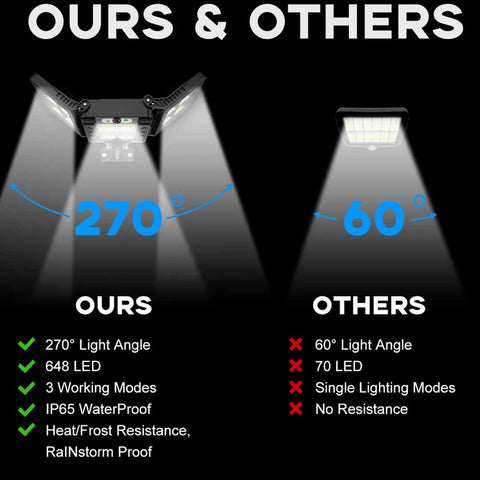 Details:
Dusk to Dawn
Motion Sensor with build-in modes
ON/OFF switch
Our solar powered outdoor lights DO last ON All Night Long
These Solar Lights last up to 16 hours during the night with only 6 hours of direct sunlight on the solar panel
Package includes: 1 x 3-Heads Solar Led System, Remote Control, Wall Mount, Screws
Free Shipping
WIDE APPLICATION - Very simple assembly makes it possible to hang it anywhere in a few minutes as lighting for the facade of a house, driveway or farm building. Suitable for garden, swimming pool, fence, patio, sidewalk, stairs, exterior wall, etc. The wide-angle of illumination of up to 270 degrees, and the long range of the sensor will ensure the satisfaction of even the most demanding users with the product.
AUTOMATIC ON/OFF -  The PIR motion sensor can scan the moving heat source continuously within the detection range. When someone appears in the area, the light will automatically turn on and subsequently turn off.
SOLAR CHARGE - It needs 6 hours of sunlight charging during the day for up to 16 hours of normal operation at night. No wires are needed, giving you an eco-friendly, low carbon and economical product.
FAST CHARGING - The charging of the solar panel depends on the duration of the light and the weather conditions. The stronger the sun, the shorter the charging time.