Roland's story:

When we met Roland, we were very surprised. We didn't even know what species he was. After searching, we learned that he was an African rhino that went extinct in 2049. His reappearance should be the gene cloning technology that was forbidden in the black market of Night City.
He lay dying in a large garbage factory outside the city, seemingly a failure of gene cloning technology. We really couldn't resist the huge creature that was extinct and reappeared in front of us. After thinking about it, we decided to take him back to the transformation base for transformation and treatment. The treatment process was very long because we could not find a matching mechanical organ. In the end, our designer designed and manufactured a matching organ overnight and successfully saved his life.
He is still in a coma and it will take some time to wake up. My colleague and I were smoking cigarettes outside the operating room, looking at the starry sky decorated with neon lights, and sighed how fascinating this creature from the past is. I was afraid that he would be lonely because he had no companions when he woke up, but then I thought, who was happy in the Night City in 2083? The only thing you can do is to survive alone.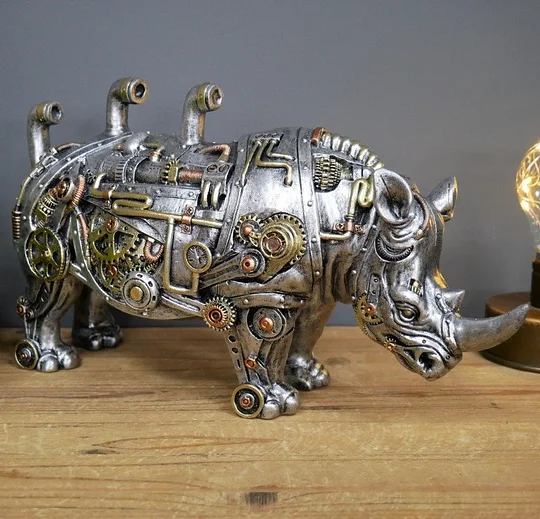 Specification:
Material: completely handmade; high-quality materials and unique design
About Roland: Steampunk Roland is just the beginning! There will be more steampunk animals in Night City. We have designed a variety of styles, and you can collect them as a steampunk lover. If you happen to need a gift for someone, it will also be a very special gift.
Height: 8 inches"
Features: 
【Unique Design】 This sculpture is designed to look like a steam engine, changing the cute image of a rhino in the past. It is very unique and cool. The sculpture is made of resin material, designer hand-painted metal paint, economical and beautiful, not easy to fade, easy to display.
【 High-Quality 】 Hand-Carved, Resin-Carved, Each Knife Is The Accumulation Of Years Of Experience Of The Master, It Is The Best Decorative Ornament For Desktop, Window, And Office Furniture.
【The Perfect Gift】 This Cool rhino Is Very Suitable For Boys, Men Or Male Friends As Gifts For Important Occasions Such As Birthdays, Christmas, And Graduation Ceremonies.

Our advice:
Put these steampunk animals on your collection shelf, desk or any place you like, and they will let you travel to the steampunk era in a moment.
When you give him as a gift to your friends or relatives, I think they appreciate your unique taste and love this gift very much.

Not small at all! Size height over 8 inches, not 3 inches!

The height of the product is over 8 inches and the height is over 8 inches, Not 3 inches, 3 inches is fake.

Package Includes:
Roland-Steampunk Rhino*1