Are Hidden Cameras Watching You Right Now?
Pen-sized Hidden Camera, GPS Tracker & Bug Detector which is as easy to use as it is discrete
It weighs only 25g, offers 12 levels of sensitivity,  and up to 25 hours of working time in an hour of charge.
★The Only Way To Find All Types Of Cameras
Easy to use Hidden Camera Detector Quickly and Instantly Locates any Spy Camera Lens-Portable Pocket Sized Personal Hidden Camera Detector Device-Benefit from the Peace of Mind Knowing No Camera can Hide, Watch or Record your Private Moments

★ ARE YOU CONCERNED ABOUT PRIVACY WHEN RENTING 
a Hotel Room? AirBnB or Apartment? With so many stories in the news today sighting just these types of privacy intrusions in dressing rooms, tanning beds and public toilets. Get your Hidden Camera Detector Wand the most reliable Hidden Camera Finder and Locator-Portable detection equipment to keep you free from unauthorized video and hidden spy cameras
★ PEACE OF MIND SOLUTION FOR EVERYONE-
Moms, Daughters, Dads, Sons, Coworkers, Husbands, Wives, Girlfriends, Boyfriends....... any Loved One that you care about. Affordable, Easy-To-Use Surveillance Camera Detector. The Hidden Camera Detector Wand is a lightweight battery powered device that allows you to quickly identify and locate any concealed hidden camera. It's so small you can carry it in your pocket, purse, suitcase or briefcase to have it with you at all time.
★ WHY GET A Detector?
Instantly Finds All Hidden Cameras. Finds Both Wireless and Wired cameras. Finds working or non-working cameras. Peace of mind from voyeurs and perverts. Owning a Hidden Camera Detector Wand can help you reduce concerns for a very low price. The Hidden Camera Detector Wand is an excellent peace of mind solution that allows you to make sure you are not being watched or recorded. Find a spy hidden camera every where you travel. Finds every hidden camera and really an easy to use spy device detector
★

H

ow to detect?
The Detector boasts a frequency detection range of 1Mhz to 6.5Ghz. Moreover,
4 Modes:
rf wireless signal detection, UG magnetic field signal detection, camera detection, flashlight auxiliary lighting.
it can easily catch

 

locate spy

 

cameras,

 

 listening devices

 , RF signal,SIM card bugs,

 

GPS trackers

, etc.
Along with that, it houses a strong laser lens with bright lights to quickly and precisely identify hidden wired or pinhole cameras. Moreover, you can switch between the two modes with one tap.
★

 Product video
✔️

RF Wireless Signal Detection


✔️

UG Magnetic Field Signal Detection

✔️

Locating Hidden Camera Equipment


✔️

Auxiliary Lighting by Flashlight
 ★ SPECIFICATIONS
Detecting frequency range
10 MHz-6 GHz
Item Weight

0.88 oz

Batteries

1 Lithium Polymer batteries required. (included)

Accessories
4

Working Time:

 

25 Hours

Colour
Black
Dimensions

5.2 x 0.78 x 0.59 in

Package Dimensions

6.65 x 3.23 x 2.13 inches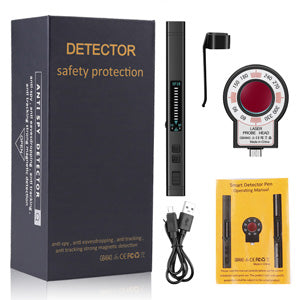 ★ What's Package Include:
1 x Detector
1 x USB cable
1 x User Manua
★ TIPS
Before sweeping for bugs or hidden cameras, unplug and disconnect all WiFi connections, routers, cell phones, and other wireless devices so their signals won't interfere with your sweep.
When using a hidden camera finder, split the room to be searched into quadrants. Then, sweep one quadrant at a time. This assures that you more fully check all areas of the room.
What to Do If You Detect Hidden Spy Surveillance Cameras at Your Place
If you find hidden cameras in your room, you should take the below procedures.
Step 1. Don't move or touch the hidden cameras. (The police would collect the fingerprints to locate the criminal.)
Step 2. Take all of your belongs out of the viewing angle of the camera.
Step 3. Take pictures of the camera for evidence.
Step 4. Call the police or other authorities to investigate the case.
Do not let Your paranoia get the best of you one of these things will find all the hidden cameras can it is easy to use!!!