The Floating Solar LED Pool Lamp can be switched between sixteen different color options and four illumination modes with the remote control. It has a wide variety of beautiful colors to match your style. It charges automatically during the day when placed under direct sunlight. When the sun sets, it automatically comes on but it turns itself off during the day. It is suitable for swimming pools, landscaping, weddings, pathways, fountains, outdoor parties, and other holiday decorations.
Specifications
Charging Method: Solar Charging
Solar Panel: LED Solar 2.5W
Rechargeable Battery: 3.7v Li-battery 2000 mAh
Color Changing: RGB 16 Color Change
Light Source: 12pcs LED
Switch Mode: Manual Control
Charging Time: 6 – 8 Hours (Depending on the intensity of different seasons.)
Working Time: 8 – 10 Hours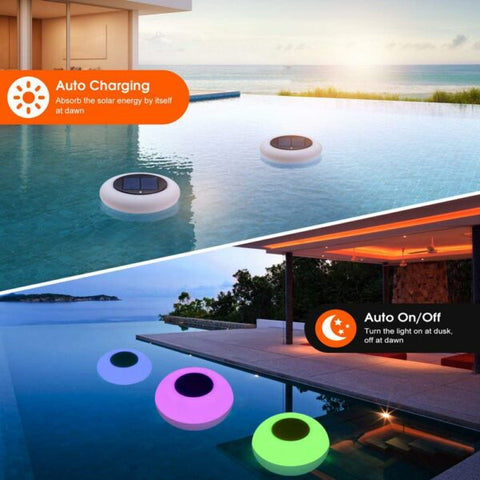 Note
1. Before using it for the first time, switch to the ON position and place it under direct sunlight for more than 8 hours for it to charge fully.
2. Please do not keep it under a shade, it needs to be in a place that is exposed to sunlight for at least 6 – 8 hours each day.
3. Ensure to keep the solar panel clean, as this will maximize its effectiveness.