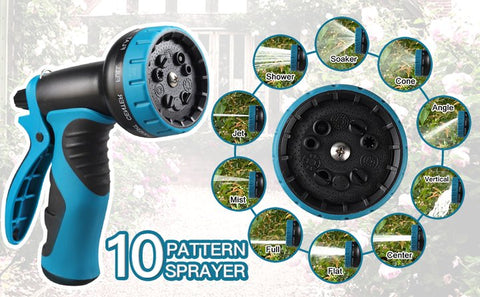 Hose expandable garden hose automatically expands to the stated product length - roughly 3 times extension - with standard pressure when water is turned on and shortens to compact length when the water is turned off. Storing the Flexi Hose is a breeze!
Strong fittings for reliability! Solid 3/4 inch brass connectors ensure the expanding garden water pipe fits the typical outdoor garden taps in the US.
Expandable, lightweight construction without sacrificing quality! The 3750D elastic outer fabric with 4 layers of latex protects the inner tube effectively from thorns, punctures, and sharp corners.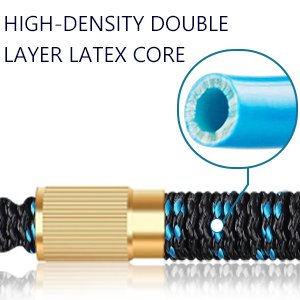 High-density Double Layers Latex Core
Gardguard garden hose comes with a high-quality latex core that ensures strength and durability. No more breakage, abrasion, or leakage when you using the water hose.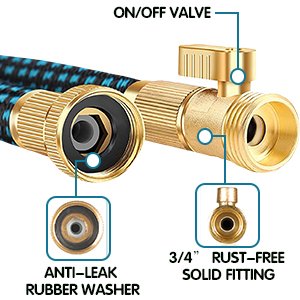 Anti-leak Solid 3/4 inch Connectors
The solid fitting has a long life, which is fitted with an anti-leak rubber washer. Enhance no more leakage, break, rupture, crack or corrode. A shutoff valve on a garden hose expandable can easily control the flow of water. No need to go to the faucet many times.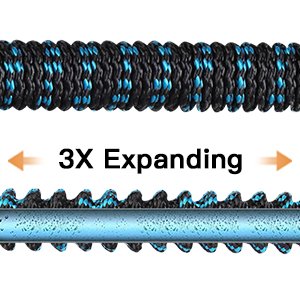 Expanding length 3 Times
Expandable and retractable hose for the garden is easy for storage and use. The water hose can expand up 3 times in length when water pressure is on, and shrink to its original length in seconds when shutting off. Just like magic to meet all your needs!
GARDEN HOSE INCLUDE
1*Expandable Garden Hose
2*rotating Garden Hose spray nozzle
1*Garden Hose hanger
1*Garden Hose storage bag
3*Garden Hose sealing rings