Often called the jewel of our Solar system, Saturn is pretty massive. Although this Saturn Moon lamp is not as big as the actual planet, it is quite a scaled replica.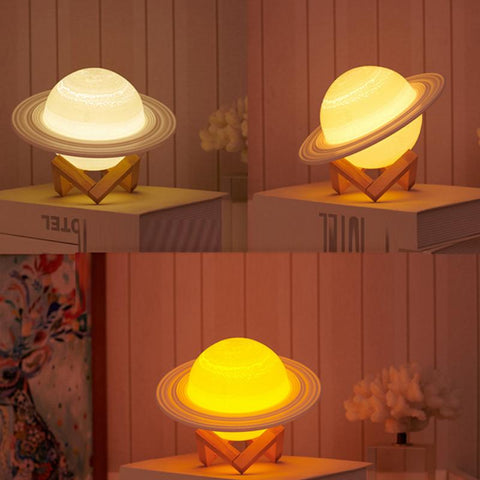 Durable lamp
The Saturn Moon Lamp is made of environmentally friendly Polylactic acid (PLA). The base is made of wood and this makes the lamp sturdy. It definitely won't break easily, that is except someone accidentally "sat on" it.
Different models
Truly, there is only one planet called Saturn. However, this Saturn Moon Lamp comes in two different models; the 3-colors model and the 16-colors model. The former lights up in only white, yellow, and warm white colors. The latter, on the other hand, lights up in 16 different static colors. These colors include red, blue, green, white, and many more.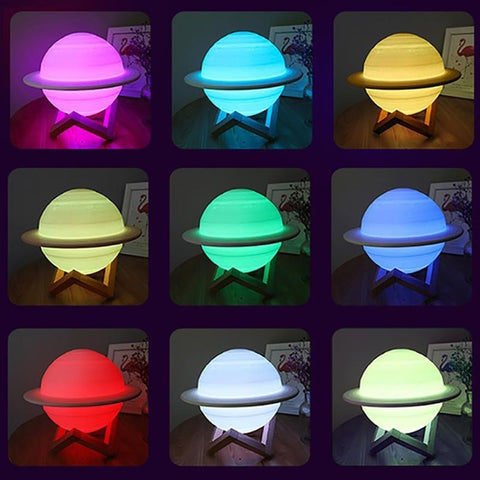 Stays on for a long time
Did you know that the day, Saturday, was named after Saturn? Interesting, right? But that does not stop this Saturn Moon Lamp from working on any other day. In fact, with a 2-hour charge, you can expect to see this lamp light up for between 6 – 8 hours. It has an average service life of about 10,000 hours. I know Saturn is definitely older than that, but the lamp will serve you well nonetheless.
Perfect for your home
This Saturn Moon Lamp is a great source of lighting for any room in the home. It is as good a desk decoration as it is a practical night light. And even if you don't depend on it for illumination, it will make a good aesthetic wherever you place it.