A Groomed Pet Is A Happy Pet

The Process of removing fur, dander, and dust just got easier!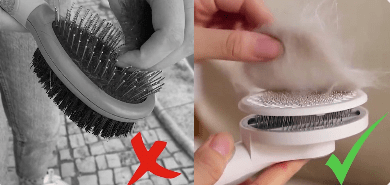 Brushing your cat not only removes dirt, grease, and dead hair from her coat. It also helps to remove skin flakes and stimulates blood circulation, improving the overall condition of their skin.
The Cat Brush is a large and sturdy brush for your cat and/or dog. The rounded metal bristles allow you to brush deeply through the coat without damaging or irritating the sensitive skin of your cat and/or dog.

The loose hairs are immediately taken along by the durable bristles. Which can then be easily and quickly removed from the brush by pressing the release button. In addition to being a pleasant brush for your cat or dog, it is also ideal for reducing loose hair in the house.

The handy release button on the Smart Brush allows you to quickly and easily remove all combed-out hairs from the brush. No more hassle with hairs that remain in the brush!
The rounded metal bristles protect the sensitive skin of the cat and/or dog. The bristles also ensure that the fur of your cat and/or dog can be combed deeply. Which makes it comfortable for your cat or dog as well as for yourself!
✔️Easily and quickly remove the unwanted hair with the release button
✔️ Reaches deep into the coat
✔️Curved and durable bristles
✔️Rounded metal bristles protect pet's sensitive skin
✔️Suitable for all breeds and all coat types
✔️Perfect brush for pets who don't like being brushed
Simple Design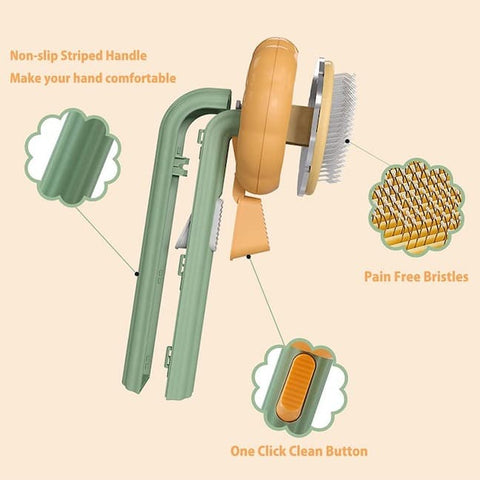 Calm & Soothing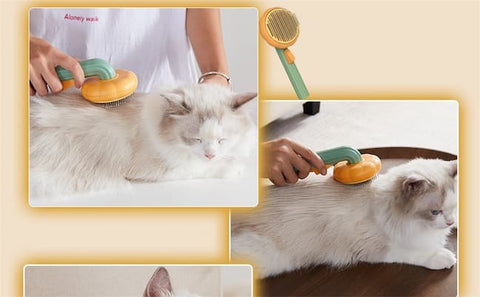 FAQ
How does the self-cleaning work?
- Simply comb the fur then press the button. The brush will become instantly fur-free
Will this work on long and short fur?
- Yes it works perfectly for all kinds types of fur
Will it work for cats or dogs?
- This works for both types of animals... even bunnies!
How does it reduce stress?
- Brushing your pets will help reduce the excess and loose hair they tend to carry around. It can also prevent hairballs!
✔️ Order Now & Make Your Life Easier! ✔️