Wall Decor for the Adventurous!
The Rock Climbing Men Sculpture Wall Hanging is a unique and eye-catching decorative piece. Its simple installation makes it a great and easy way to add art to your home. Mount it with just one round peg and the twisted loop. You can easily mount multiple climbing men at various heights to create a cool climbing illusion. 
The gorgeous silver finish of the sculptures makes them perfect for children's bedrooms, hotel lobbies, and even offices. The Rock Climbing Men Sculpture Wall Hanging will be a reminder to stay fit even in the busiest times. It will also encourage you to reach heights like never before.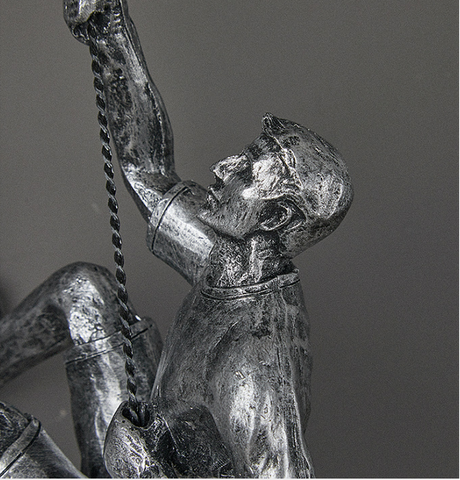 It was developed by French artists. The famous Impressionist artists of this period, such as Claude Monet and Edgar Degas broke the conventional rules of art and captured light and movement in their own unconventional manner. This movement changed the course of art history.
SPECIFICATIONS

Material:

 

Polyresin

Dimensions:

Man Climbing: Head to Base (H): 11.5cm, Feet to Elbow (L): 19.5cm
Man Freefalling: H- 28cm, L- 11cm

Not a shelf decor
The rope does not slide from the person's hand
Available in Silver
FEATURES
Clean design and elegant look
High quality
Wipe Clean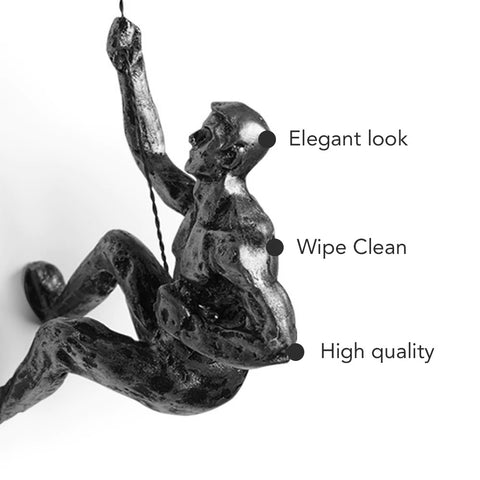 STYLING TIPS

The Rock Climbing Men Sculpture Wall Hanging is a beautiful addition to your rustic type home decor
It will go well with a subtle grey and white decor
Pair these wall decor accents in the foyer with natural accents to create an appealing entryway
When paired with black elements, the decor shall become an eye-catching element of any space
The 

Rock Climbing Men Sculpture Wall Hanging

 

used in restaurants will also look appealing