Unlike ordinary lamps with lampshades, the Resin Mouse Table Lamp feature white, and golden rats in different positions, holding light bulbs with long cables in their hands. Their tails are long and their ears perked up just like the real animal.
These mouse lamps are made of resin. You could use it as the accent light piece in your living room, office, yoga studio, nursery, dresser table, coffee table, or library. These sleek elegant creatures holding light bulbs will elevate the aesthetic appearance of your home. Three or more of these mice on your reading table or nightstand would actually be a good reading light. The soft, stable, and non-flickering light from the bulb is friendly to your eyes, so you can enjoy reading as long as you want.
These mice in their two different colors take up different interesting postures. There is the one standing erect and looking upward, holding the light bulb with its two hands. Then, there is another one who looks like he is about to run away with the light bulb, it has one hand on the floor and is holding the build with the other. You can choose to buy just one mouse or three mice in different postures. Note, though that, some mice come with long cables while others do not, this is clearly shown in the pictures. So please keep that in mind as you make your choice.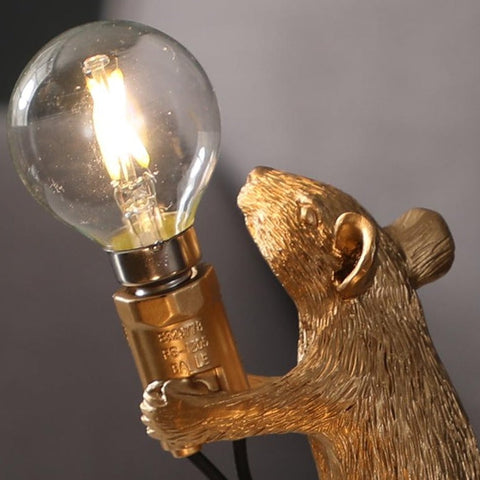 The Resin Mouse Table Lamp has a convenient on and off switch on the electrical cord which makes it easy to turn on or off. You will not have to get up to flick a wall switch, you can turn it off from the comfort of your bed before sleeping. It is lightweight and will sit nicely on your work desk or bedside table to give light without taking up too much space.