I

like that you can clean it up easily by just running everything underwater. It's small and fits in a drawer with other kitchen tools. Because it's a usb charged appliance, you don't have to fumble with cords.


I would highly recommend it to anyone that loves to cook but

hates

the chopping!


Chelsea D* Said
benefits
When a recipe requires a lot of chopping and mixing, let the mini food chopper do the job. The mini food chopper is easy to handle, can be stored in tight spaces and doesn't use up valuable counter space.
You can chop almost anything, guacamole, baby food, veggies, fruits, nuts, salsa and chocolate.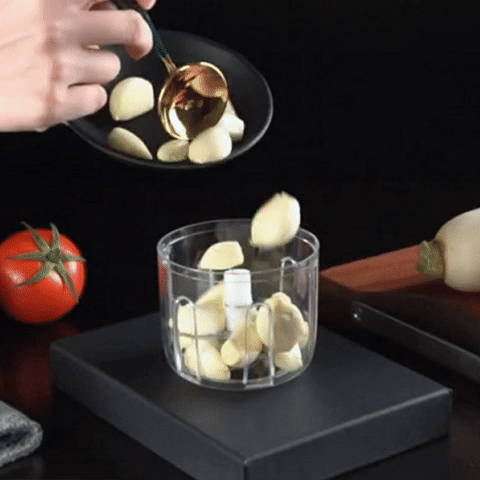 Premium Material: Stainless steel blades are durable, strong and powerful for efficient cutting. The food grade plastic of cup is BPA free and safe for containing food.
Powerful Function: Fast to chop garlic, seasoning, nuts, vegetables and more on, perfect for little food.
Mini & Portable: Unique inner wall design, less ingredients can be easily chopped, handy for small and delicate needs. Has advantages of economy, practicability, compact volume and portable.
Time Saving: This electric food chopper will help you cut garlic, carrots, vegetables and nuts. The garlic chopper will save much time in the kitchen.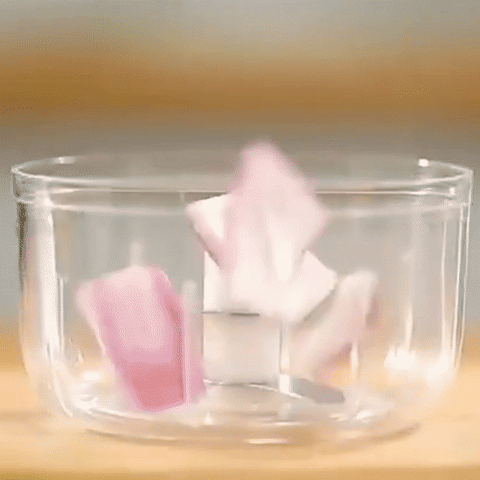 Multifunction: You can use it for cooking, baby food supplements, smoothies drink.
Easy to clean: The bowl and the blades can be separated, so food chopper is convenient to be washed.
Ergonomic design: The bowl is designed with a non-slip silicone base. Quick and easy way to chop, mix and blend food. To avoid injuries when cleaning, don't touch the blades with fingers.
specifications
Power: 15W.
Color: Pink, green.
Motor speed: Below 10000 rpm.
Size: Large (250 ml), small (100 ml).
Rated voltage: 3.7
Mode of use: Automatic.
Package includes: Garlic chopper + USB + manual.
👩‍🏫Frequently asked Questions
Is it strong enough to chop the nuts?
The cutting blades are thin and razor sharp. Chopping hard nuts will probably very quickly wear out the blades.

Can the motor still run when the bowl is separated from the lid?
NO, it can't. Mini food chopper used the Humanized Hall switch design, the motor will not work without completely closing the cover. So you can use it with confidence.

If the battery is drained, does it work at full power while charging or plugged in?
It is not recommend to use the chopper while being charged.

What kind of food is this electric food chopper suitable for?
Mostly the food chopper is used to cut the garlic, shallots, broccoli, chili, carrot, onion, ginger, and various soft nuts.

How big is?
It's small. Basically can be hand held. Has a capacity of about 1/2 cup.
⚠⚠Important notes
1. Please cut the ingredients into small pieces before chopping them.
2. The cutter is very sharp. Do not let children close to it to avoid scratching.
3. Please keep the Mini Garlic Grinder away from high temperatures, do not apply it in the microwave, ovens and dishwasher.
4. Please wash it with water after use, remove the blade and dry it before assembling.