Say Goodbye to Aching and Aching Hands!
Your hands are one of the most important body parts that you should take care of. Give them some love by experiencing a whole new way of hand massage therapy that is less expensive and less hassle. Enjoy smooth, soft, and pain-free hands with tons of health benefits alongside when you use this hand pain relief massager.
The ONLY massager with individual finger massage

Easily removes pain in just minutes

Deep massage and kneading (6 modes with 3 intensities)

Can be used anytime and anywhere

With tons of health benefits

Get Effortless Relief
No need to spend so much and travel to therapy centers just to have a massage. This hand massager is compact and lightweight and can be used anywhere and anytime. As experts recommend having hand massage 1-2 times a day, this is designed to perform just that. Just insert your hand, without exerting too much effort, and you get a nice warm massage.
Easily Remove Pain with Long Lasting Effect
With advanced air pressure and heat compress technology, this hand massager provides a rhythmic air pressure kneading in every inch of your hands which effectively relieve pain in just a few minutes. Regular use of this hand massage helps improve blood circulation and oxygen levels.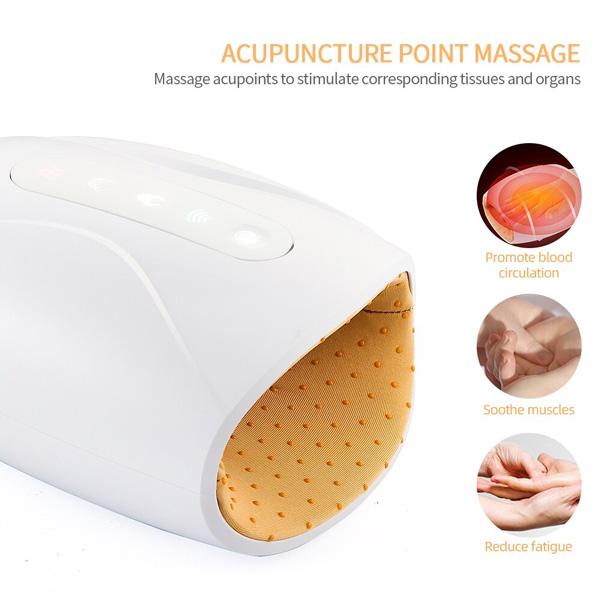 Beautifies your Hand
This hand massager not only takes away pain and discomfort but also gives your hand a beauty treatment. It has a soothing heat therapy that provides your hand with a moist and warm feeling. Putting on a hand cream or lotion gives your skin additional nourishment, making it smooth, soft, and glossy.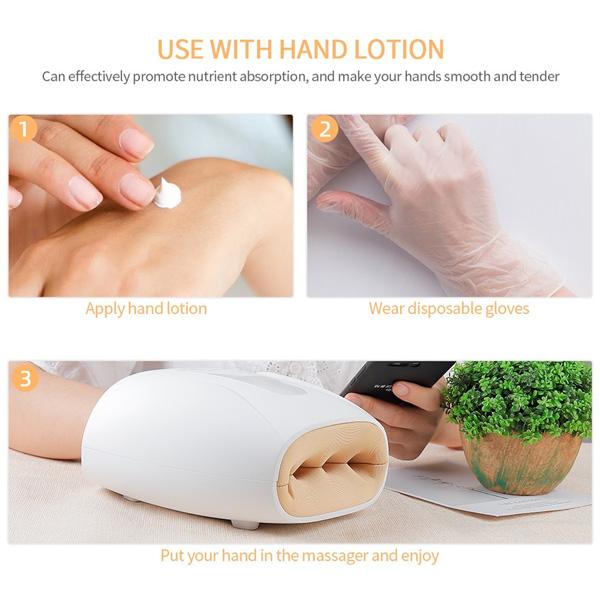 Perfect Hand Massager Just For You
Whether you are experiencing hand fatigue or recovering from injuries, this hand massager is for you. This hand massager eliminates the tension out of the muscles in your hands and cleanses accumulated toxins. This is perfect for anyone suffering from arthritis, carpal tunnel, tendonitis, or more.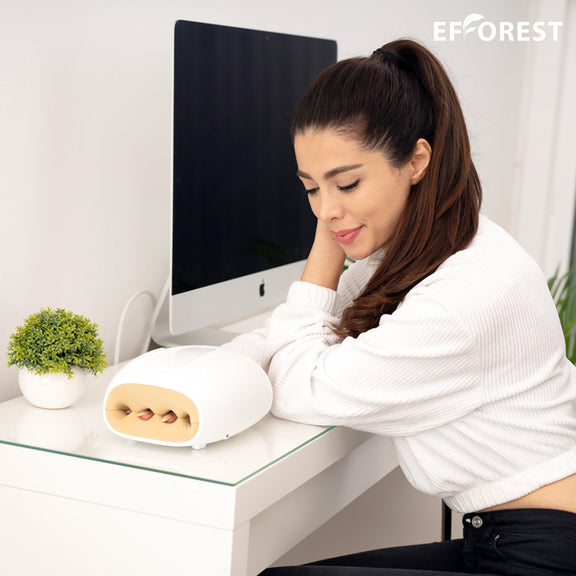 Specifications
Crystal clear display: 3 speeds / 2 massage modes / 2 heat levels.
Package size: 10.04 x 8.31 x 5.35 inches; 2.49 pounds.
Long-lasting batteries: 1 lithium-ion battery is required. (included)
Power: via USB cable
Package Includes:
1 x Hand Massager

1 x Manual

1 x USB Cable