Farver's story:
When we rescued Farver, it was a night in November 2079. At that time, it rained continuously for more than half a year, and the forest outside the city became sparse due to bad weather.
In the bushes near the city, Farver's eyes flickered from the dazzling neon lights. Yes, we found him. Farver's whole body was torn and bloody, if it weren't for the slight ups and downs of his stomach, we really thought he was dead. It is hard to imagine how he escaped from the prey.
After bringing him back to the transformed base, we started the two-day transform operation. Fortunately, he eventually survived. He is currently trying to recover, although he often wakes up in nightmares.
He knew that he should seize this opportunity of rebirth because in Night City, no one would care about you, and the only thing you have to do is to stay strong.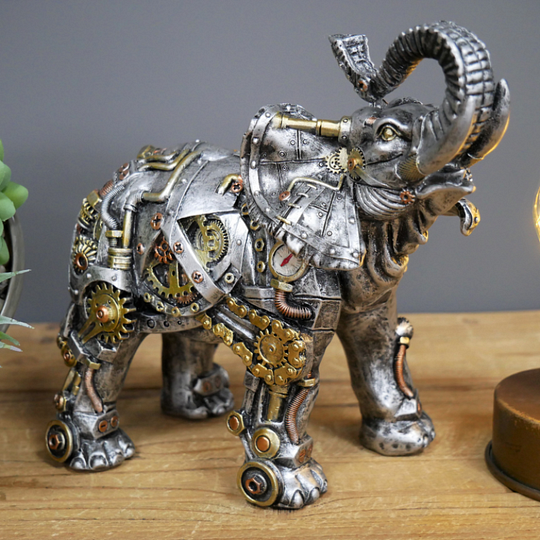 Specification:
Material: completely handmade; high-quality materials and unique design
About Farver: Steampunk Farver is just the beginning! There will be more steampunk animals in Night City. We have designed a variety of styles, and you can collect them as a steampunk lover. If you happen to need a gift for someone, it will also be a very special gift.
Height: 8 inches"
Features: 
【Unique Design】 This sculpture is designed to look like a steam engine, changing the cute image of an elephant in the past. It is very unique and cool. The sculpture is made of resin material, designer hand-painted metal paint, economical and beautiful, not easy to fade, easy to display.
【 High-Quality 】 Hand-Carved, Resin-Carved, Each Knife Is The Accumulation Of Years Of Experience Of The Master, It Is The Best Decorative Ornament For Desktop, Window, And Office Furniture
【The Perfect Gift】 This Cool elephant Is Very Suitable For Boys, Men Or Male Friends As Gifts For Important Occasions Such As Birthdays, Christmas, And Graduation Ceremonies.
Our advice:
Put these steampunk animals on your collection shelf, desk or any place you like, and they will let you travel to the steampunk era in a moment.
When you give him as a gift to your friends or relatives, I think they appreciate your unique taste and love this gift very much.
Not small at all! Size height over 8 inches, not 3 inches!
The height of the product is over 8 inches and the height is over 8 inches, Not 3 inches, 3 inches is fake.
Package Includes:
Farver-Steampunk Elephant*1