Hook and Loop closure

GREAT LOOK: Throw on your new pony tail cap, gym shoes, yoga pants, and crop top to complete a perfect casual style. This classic style cap will go great with anything including your bathing suit on a sunny summer day! Whether you're wearing this hat with you hair down, or utilizing the multiple height options and wearing a cute ponytail or messy bun, this hat will not fail you or your fun style. Dress it up or down, wear with jeans or shorts, and in any season!
GREAT FIT: One size. Handmade Ponytail Baseball Cap with the Velcro closure and elastic stretchy criss cross bands, the inner circumference of this hat measures approximately 22 inches, but it can adjust to measure anywhere between 20 and 24 inches, fitting several various head sizes. Brim length is approximately 2.75 inches. Easy to wear comfortably with a pony tail or messy bun.
WHEN TO WEAR: Wear this hat anytime/anywhere. Some examples include: beach, park, pool, gym, work, outdoor music festivals, sporting events, gardening, walking your dogs, vacation, boating, vacation, camping, hiking, fishing, floating, weekend getaway, honeymoon, bachelorette parties, amusment parks, traveling and more!
GREAT QUALITY: High Ponytail Hats are 65% cotton 35% polyester. Lightweight super soft finish. Exceptional quality.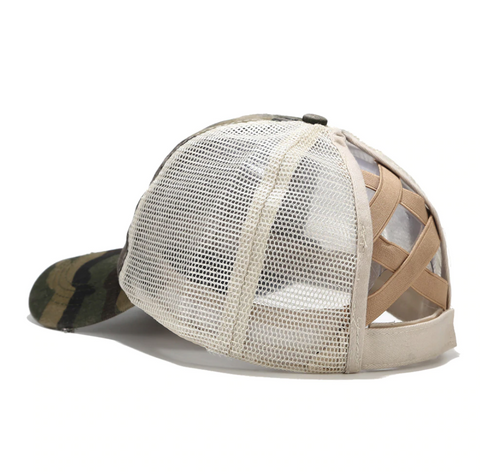 WHY YOU WILL LOVE IT: Women's baseball cap benefits include: criss cross elastic bands that allow you to wear your hear at multiple levels – sport this cap with hair down, up in a messy bun, or in a ponytail, great for running and working out – keeps hair off your neck to prevent sweating, comes in many colors to match your cute outfit, wear any day at any time and instantly look fun, flirty, and stylish. Distressed Style