WHY WE HAVE THE NO.1 RATED COZY PET BED OF 2022
1 in 4 pets suffer from anxiety, being left alone causes a build up of stress which ultimately can lead to destructive tendencies and behavioural problems, affected appetite and a reduced life span.
The Solution? Our Cozy Paw Bed!
94% of customers reported that their furry friends experienced reduced stress & anxiety whilst 39% followed up with an email expressing how their pet 'loves' it!
Our Cozy Paw Bed is specially designed to reduce anxiety while ensuring your pet is as comfortable as possible. The raised rim creates a sense of security whilst the premium ultra-soft fur keeps your pets warm and snuggly during these stressful times.
PRODUCT BENEFITS:
🐾 Extra Comfort - Ideal for pets who love to curl up! The raised rim provides head and neck support, while the super-soft filling offers joint and muscle pain relief. Your pet will be very relaxed!
🐾 Eases Anxiety - The raised rim creates a sense of security & cosiness. The cosy faux & mimics the ultra comfort of a mother's fur coat. It is proven to help ease anxiety & initiates the nervous system to calm down & relax faster.
🐾 Improved Behaviour & Health - The reduced stress & anxiety of your pet leads to improved behaviour and better health. This not only improves your pet's experience but also your experience as a pet owner.
🐾 Cleaning Pet Hair Is Easier - When your pet sleeps, it sheds hair. Let them sleep in an area where it is concentrated, and you will have less to clean up!
🐾 Ultra-Soft Hypoallergenic Fabric - Made from ultra-soft vegan fur. The material is specially designed to not cause allergic reactions & irritation for your pet. Its long fibres are soft, durable and machine-washable.
🐾 Luxurious Design - Multiple colour designs to suit any home. The sleek design combined with the cosy appearance makes your home look extra homely for your furry friend.
🐾 Easy To Clean - 100% safe to machine wash using the following settings: (Gentle cycle, Tumble dry, low heat).
🐾 Modern Style - The shape of the paw bed has more sense of design compared to other pet beds. Not only is it a pet bed when placed in the house, but it can also decorate the house and make the house look more comfortable and warmer. This soft pet bed is designed with pets in mind.
🐾 Top Quality Materials - Super soft short pile dog bed accessories become skin friendly and non-toxic, durable fabrics are not easy to break. The bottom and side pads have enough pp cotton, and the short plush can provide your dog with an ideal sleeping surface, keeping the dog bed warm and comfortable.
SIZING CHART: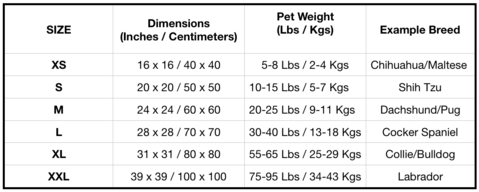 Need help finding the perfect size?
XS - 2.5kg/5.5lb - CHIHUAHUA (SMALL), MALTESE (SMALL), POMERANIAN, YORKSHIRE TERRIER (SMALL)
S - 5kg/11lb - AFFENPINSCHER , BOLOGNESE, CHIHUAHUA, ITALIAN GREYHOUND, JAPANESE CHIN, JAPANESE TERRIER, MALTESE, PAPILLON, PHALENE, YORKSHIRE TERRIER, MINIATURE DACHSHUND, NORFOLK TERRIER, TOY POODLE, SHIH TZU (SMALL)
M - 9kg/20lb - BORDER TERRIER, BOSTON TERRIER, CAV KING CHARLES, FOX TERRIER, JACK RUSSELL, APSO, MINIATURE POODLE, PUG, MINIATURE SCHNAUZER, SHIH TZU, WESTIE
L - 18kg/40lb - BEAGLE, FRENCH BULLDOG, COCKER SPANIEL, DACHSHUND, SHETLAND SHEEPDOG, STAF BULL TERRIER, WHIPPET
XL - 25kg/55lb - AUSTRALIAN CATTLE DOG, BASSET HOUND, ENGLISH SPRINGER, KELPIE, POODLE, SCHNAUZER
2XL - 45kg/99lb - AMERICAN STAFFORD, STAFFORDSHIRE, BOXER, BULL TERRIER, DOBERMANN, GERMAN SHEPHERD, GOLDEN RETRIEVER, LAB RETRIEVER, SIBERIAN HUSKY
**Update: As of now, we are extremely low on stock due to increased social media attention. This product is selling extremely fast and we are estimating to be out of stock very shortly. Click the blue ADD TO CART button at the top of the page before we sell out.
Available Online Only. We Ship Worldwide!