2 IN 1 DUST BLOW & SUCTION - This latest portable air duster has two suction and blowing modes, making its cleaning function more powerful and convenient. It can be used to blow out dust and small debris from your car, home, or office and then suck it away. It's a powerful handheld vacuum cleaner that also doubles as a blower cleaner.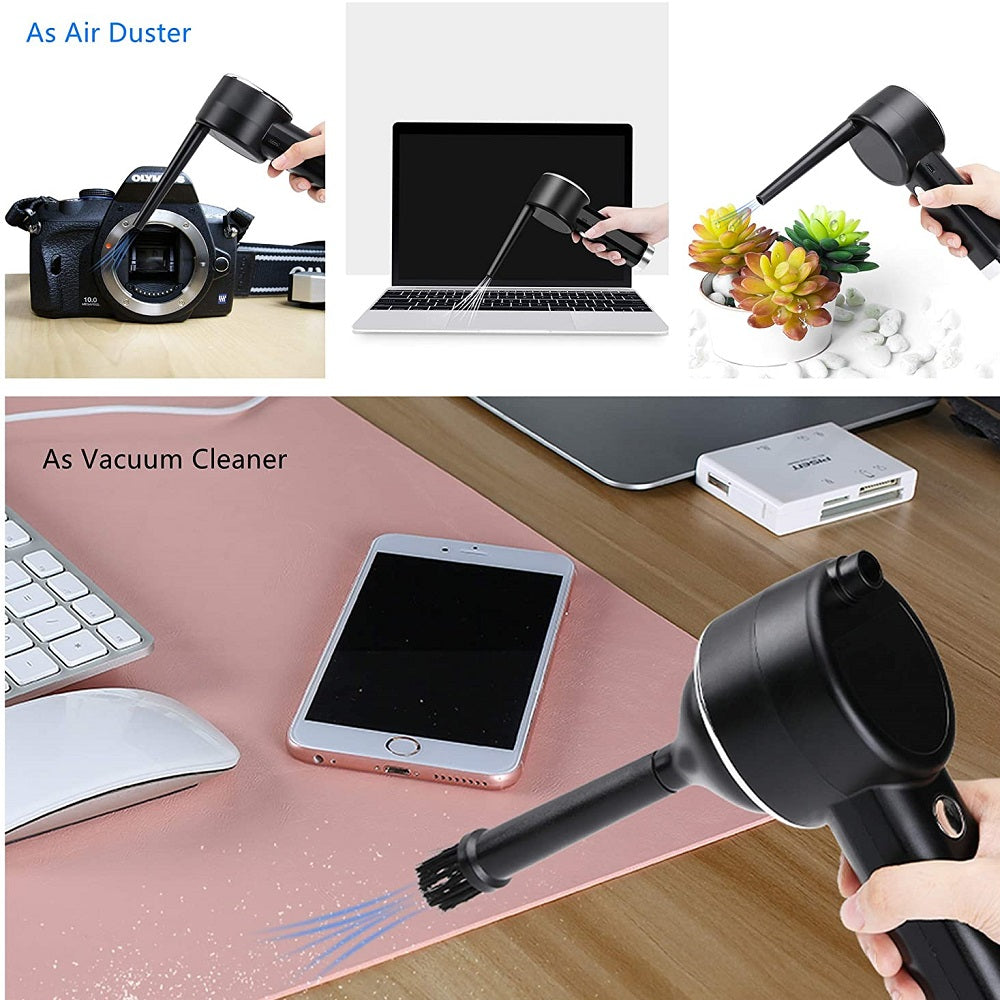 2 NOZZLES CLEANING - Our cordless air duster includes two nozzles for various applications. 1 brush nozzle for deeper cleaning (suitable for some difficult cleaning dust). 1 round nozzle for suction or blowing dust. When there is stubborn dust on the computer and accessories, you can use these nozzles to clean them more quickly and efficiently.

RECHARGEABLE & PORTABLE AIR DUSTER - The large 6000mAh lithium batteries built into this duster allow it to run continuously for a long time (on high speed, it can run for about 30 minutes). USB fast charging, full charge in 3 hours Please keep in mind that a charging adapter is not included. Please charge it using a 2A adapter, and if the indicator light is flashing, please charge it. Alternatively, if you have a USB socket in your home, you can charge it without the need for an adapter.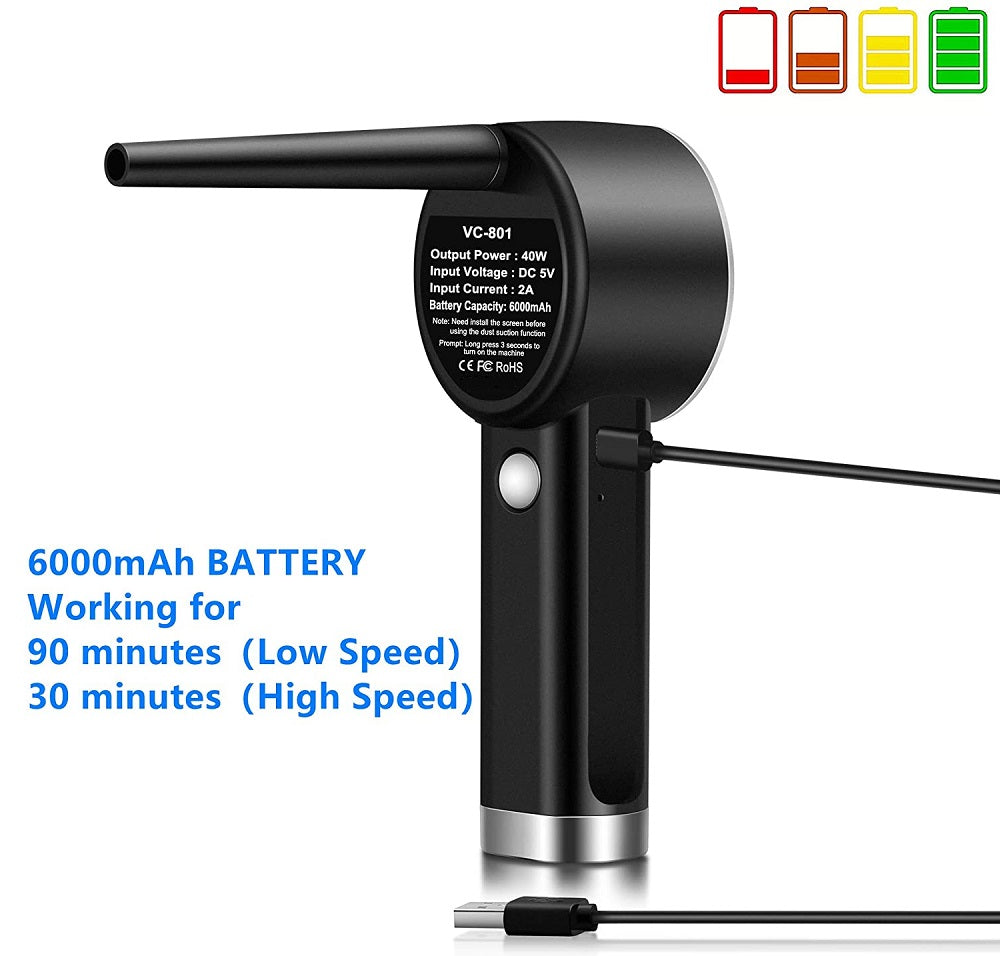 POWERFUL CORDLESS AIR DUSTER - Our air duster has a maximum rotating speed of 65000 RPM, making it more powerful than electric air dusters.
MULTIPURPOSE & EASY TO USE - It can clean most devices, including your computer, keyboard, laptop, copy machine, medical equipment, camera, and so on, that a traditional wiper or duster cannot. The air duster is designed with an extended full-palm gripping design and a retractable nozzle that keeps the handhold clear so users can grip it comfortably. The operation is extremely simple, and there are two ways to operate the duster. The first is to hold the switch for a longer duration, while the second is to press the switch twice.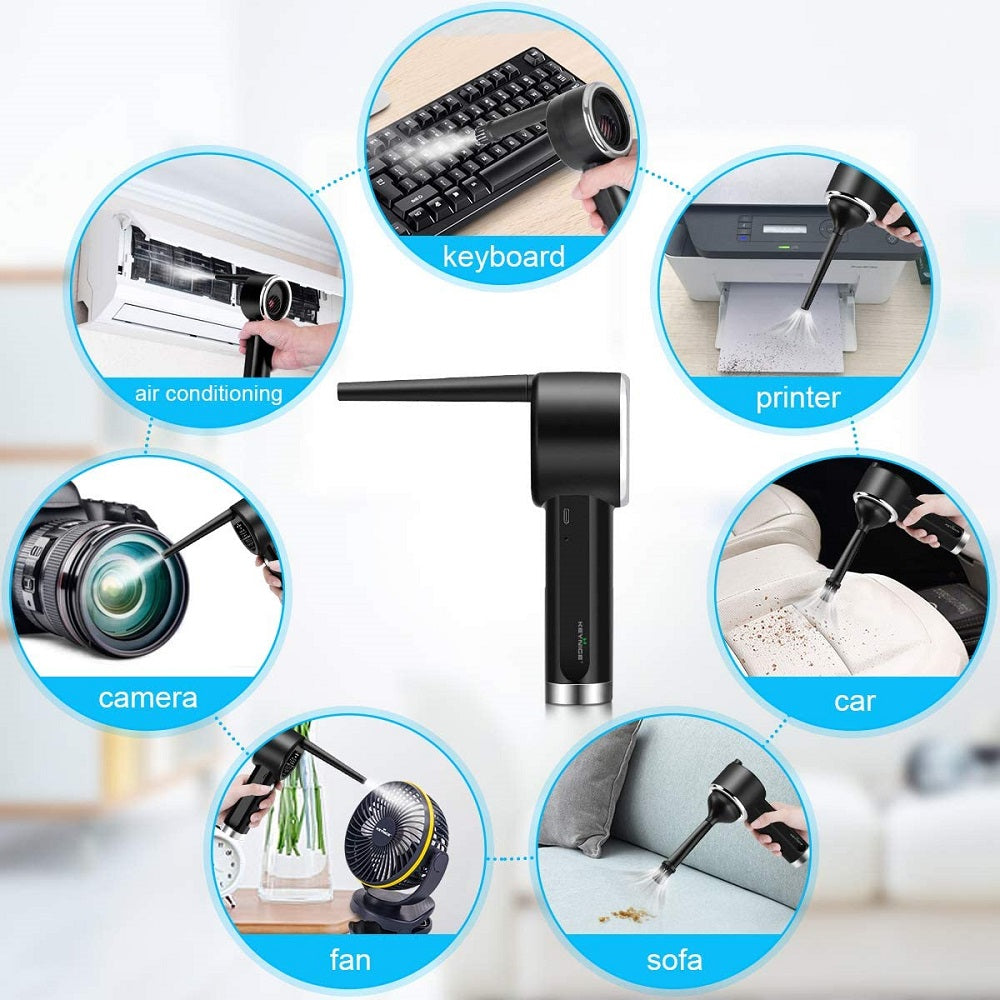 Charging time: 3 hours

Suction: 6800 pa
Battery Capacity: 6000 mAh
Speed: Approx. 65000 RPM
Package Includes:
1 x Air Duster
1 x Brush Nozzle Tube
1 x Wind Collecting Tube
1 x Filter Screen
1 x Charging Cable
1 x User Manual
Our Customer Promise
👍 Best Price Guaranteed
👍 Safe Payments
👍 30 Days Money Back Guarantee
👍 Help When You Need It
👍 We Got You! Tracking Number For Every Order