Construction Plate and Utensils
The Construction Plate is designed to fit and work together with the Construction Utensil Set. Construction lines divide each section with specific locations for the fork, spoon, and pusher to park when not being used to eat with.
Constructive Eating removes the taboo from "playing with your food" and combines fun, construction, and mealtime.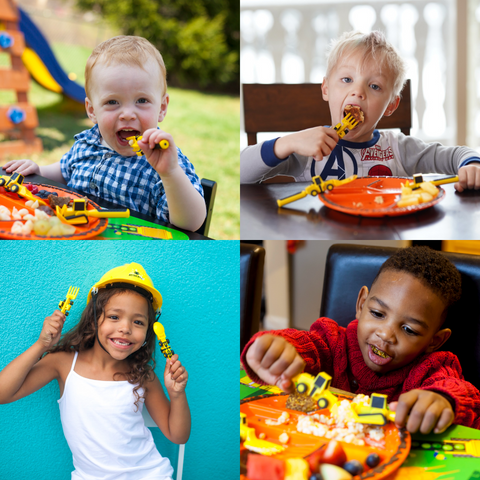 Construction Line!
Beware, Construction Zone! If you're wearing a hard hat in your dining room, the Construction Line is perfect for your little one. Lift, scoop, and push your way through a constructive mealtime.
Make Mealtime Fun!
Having trouble getting your kids to focus during mealtime? Try our utensils and plate! Nothing gets kids more excited for mealtime than eating with their favorite new fork and plate!
Building Independence!
The utensils and plate help children develop fine motor skills and independence. The textured handles make it easy for small hands to grip the utensils and scoop up their food.
Learning Is Simple!
The ramps enable young construction workers to easily load up their forks and spoons, especially when handling challenging "construction" materials. No more sticky hands or food flying.
Product Details
Materials Sourced from Midwest

Packaged in Ann Arbor, MI

Dishwasher and Microwave Safe

Trusted by Medical Professionals

BPA, Phthalate, PVC, Lead, and Paint Free