𝗔 𝘂𝗻𝗶𝗾𝘂𝗲 𝗰𝗮𝗿𝗱𝗶𝗻𝗮𝗹 𝗯𝗶𝗿𝗱-𝗶𝗻𝘀𝗽𝗶𝗿𝗲𝗱 𝗵𝗮𝗻𝗱𝗺𝗮𝗱𝗲 𝘄𝗼𝗼𝗱 𝗰𝗮𝗿𝘃𝗶𝗻𝗴.
Cardinal crafts will make the perfect gift for those missing someone who has passed away but still living in their hearts. We want to be a ray of light and a beam of hope to those who are grieving and remind them that their loved ones will always be with them in spirit.
Features:
The cardinal represents their loved ones sending them a sign that they will be with them always.
Perfect condolence gift for anyone suffering a close loss. It's a spirit, the cardinal belief has been around for hundreds of years. 
You can place this piece anywhere inside your home to remember a beautiful soul that has touched your life but is now in a better place.
Each cardinal is carefully sculpted by our top craftsmen and hand-painted to match nature's beauty.
Due to hand-carving, there is no guarantee that every product will be exactly the same, but don't worry, I will try my best to provide the most perfect product!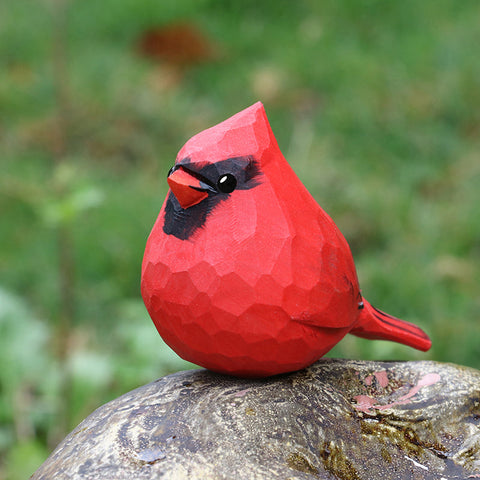 Specifications:
Size: Male Cardinal: 5.91 X 3.94 X 1.57 inch; Female Cardinal: 5.91 X 3.94 X 1.57 inch; A Pair Cardinal: 5.91 X 3.94 X 2.36 inch.
Weight: Male Cardinal: 1.76 Ounces; Female Cardinal: 1.76 Ounces; A Pair Cardinal:3.53 Ounces.