Protect your personal privacy
 and 
secure your environment
 with the latest innovative Anti-Spy Detector, 
developed with active laser scanning
 and 
passive sweeping technology
 to accurately 
identify the source of hidden bugs
 and 
wireless signals nearby
.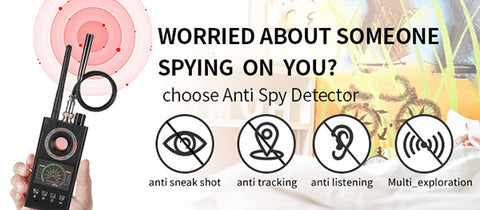 ★

 Have your ever thought that your privacy has been leaked?
From Spy Pens that record live video, to GPS trackers that attach to the bottom of your car, there is no shortage of bugs that can be used to track you. Most of them are designed to be discreet. Some are so compact that they can be hidden in nooks and crannies that you'd never think to check. Others are designed to look like harmless odds and ends you'd already have laying around your home. The variety between bugs is so vast that you'd never be able to visually identify them with complete certainty. But this doesn't mean that they can't be found.
★

 What is Detector ?
Detectors are handheld devices that help you measure the strength of radio signals. You can walk around your house and look for unusual sources of RF emissions, making it pretty simple to find a bug. If there is a signal coming from your router, obviously there is nothing to worry about. But if there is a signal coming from a painting on your wall, it will be pretty clear that there is a bug planted there.
★

 How It Works?
You'll see the smart LED screen start to light up when you move past a signal source. In the higher power ranges, you'll also feel it vibrate (the detector has three alarm modes: vibration, buzzer and flashing). This helps you physically pinpoint where any bugs are located, making it the easiest way to track them down.
★

 What It Detects?
GPS Tracker Detectors for counter surveillance work of anti sneak shot,anti tracking,anti eavesdropping. It supports 4 function including RF Signal Bug Detector, Magnetic Field Detector, GPS Detector, Camera Lens Finder Camera Detector,and AI Auto Scan.
It detects GPS Trackers, Spy Cameras, Wireless Audio Bugs,

RF Signal

 Bugs, Body Wires, Wiretaps, Mobile Phone Tapping, Magnetic GPS Tracking Devices,

 

 

and other S

py bugs
★ Product video

Portable Size: Convenient to carry around.
Easy to install: Low-voltage prompts, built-in rechargeable battery.
Quick-Lock Source: With a signal strength indicator lights that can quickly find the signal at source.
Identify Accurately: Use active laser scanning and passive wireless method of combining the sweep can be accurately identified all wireless pinhole cameras, wired cameras.
Adjust Potentiometer Adjustable Sensitivity

 

:(Greater sensitivity to widen the scope of or reduce the sensitivity to detect reduced detection range) quickly identify the waves at source.
3 DETECTION MODES
The Anti Spy Detector features 3 detection modes: laser scanning, wireless RF signal detection, and magnetic field detection.

★ SPECIFICATIONS
| | |
| --- | --- |
| Detecting Frequency | 1MHz - 8GHz |
| Dynamic Range | > 73dB |
| Detection Sensitivity | 0. 03mV( main band) |
| Rechargeable Battery | 3.7V 1200mA Lithium Polymer Battery |
| Battery Life | Continuous Working 8-10 hours on a full charge |
| Working Current | 60 – 110mA |
| Material | ABS and Metal |
| Weight | 167 g |
| Dimensions | 5.43*2.36*1.1in |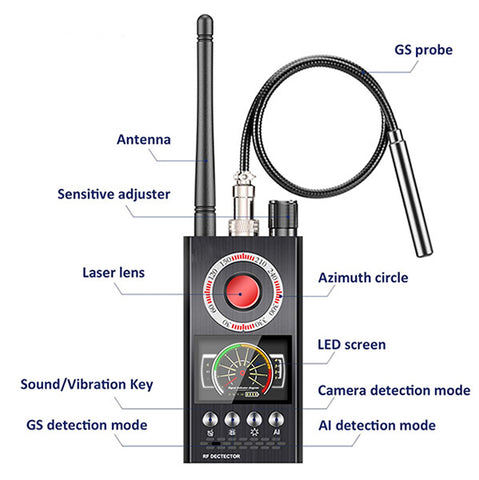 ★ 

What's Package Include:
1 x Hidden Camera Detector
1 x Detachable Antenna
1 x Magnetic field probe
1 x USB charging cable
1 x User Manual(English)
★ What to Do When You Find a Hidden GPS Tracker
Most hidden GPS trackers are battery-powered and held on by magnets or tape. If you find one of these, all you have to do is pull it loose, and you're done. The same is true of trackers that plug into a diagnostic connector or the cigarette lighter socket.

In rarer cases, where a GPS tracker is hard-wired into power and ground, you may want to seek professional assistance. Cutting the wires may do the trick, although wires cut like that may short out in the future. It's also important to make sure that the component you're cutting out is actually a tracker, which is something a professional will know.