A PERFECT WAY TO SHOW YOUR AMERICAN PRIDE.
🇺🇸  Show off your pride for all things American with this exquisite Eagle Wreath. Handcrafted from precision-cut polystyrene foam, it is the perfect embodiment of Old Glory portrayed in an exciting new way.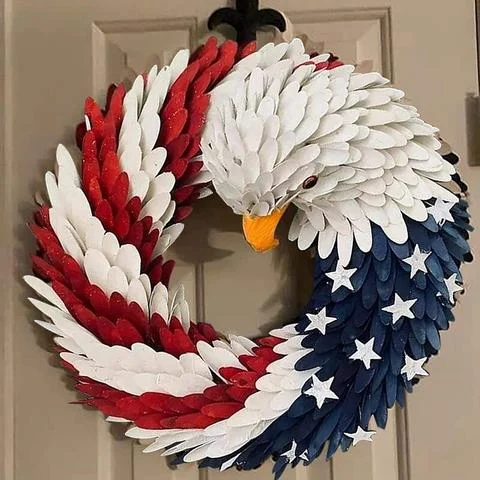 Place it in your living spaces to bring some personality into your surroundings, or make a gift to your friends and family members. This lovely wreath is sure to delight anyone who loves this great country!  
FEATURES:
✅  Free shipping
✅  Windproof & rainproof 
✅  Can be comfortably placed on a door, mantelpiece or in a glass frame
✅  30 day full money-back guarante
STEPS TO ORDER
1. Choose the size you like
2. Click the "Add To Cart" button
3. Enter shipping and billing information
Done!
DETAILS:

Material: Polystyrene foam  Size:  15in x 3.75in Diameter
SHIPPING & GUARANTEE
If you are from the United States, shipping takes 2 to 3 weeks. We will do everything to make sure you get your product as fast as possible!
We process orders between Monday and Friday. After the product is processed you will be sent a
tracking number
, which you can use on our site to track where your package is.
✅  We offer a 30-day money-back guarantee. If for any reason you are not satisfied with the product, it is our responsibility to make it right by you. 
We take pride in providing quality products and carefully inspect products before shipment. In the rare case that the item is faulty, damaged during transit, or if you're not satisfied with your order, please contact us for details on how to get a refund or replacement.
✅  We are also available for contact any day and time of the week through our messenger on the site or via email.