This beautiful howling wolf Alain shows lots of integral cogs, wheels and straps, this is a fabulous, decorative item for any room in the home.
He is super stylish and perfect for a guys ​that loves steampunk, industrial styling in his home or wants to add some of that flair.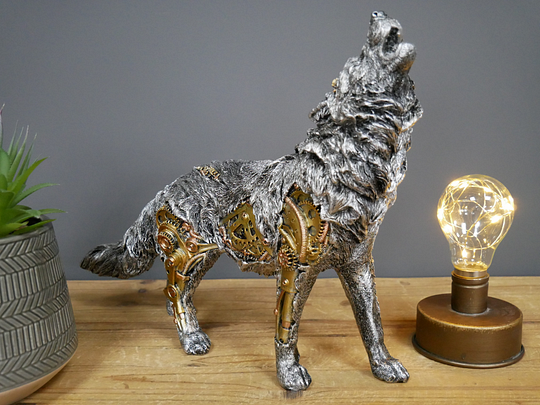 This ornament is made from resin, therefore the durable ornament will stick around for many years to come.
Ideal for any shelf within your home to create a stand out feature. You can even put it into your futuristic garden.
However, we would also highly recommend bring in during frost due to the delicate design.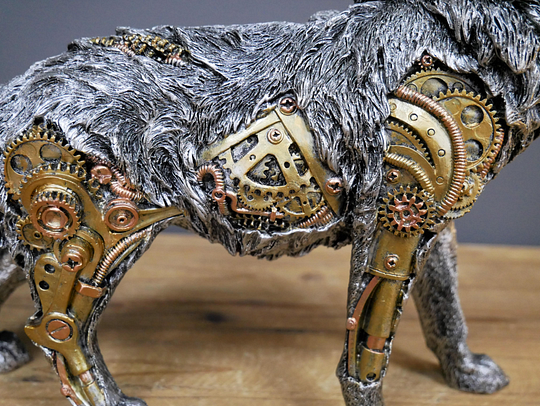 our suggestion:
These little guys are suitable to be placed in any corner you like. Whether it is a garden, a patio or a living room, it can show a unique feeling.
Features: 

❤️Absolutely 
gorgeous
 and 
unique
. 
❤️No matter what occasion they are placed on, they will surely
 

attract people's attention
.😍
❤️It is very important to us that
you are happy with your purchase.
❤️
An interesting design
.It adds a playful and cheerful spirit to your garden. This
Steampunk animals
statue stays the same for years to come. This hand-painted statue is accentuated with a multicolored finish. It has a fade-resistant finish that maintains its fresh look for a long time.
❤️
U.V resistant
and does not get damaged easily from the harsh rays of the sun. This Garden pet Statue needs some care during the winter season and it can be kept inside. 
Package Includes:
Alain-Steampunk Howling Wolf*1

size:
L: 8 inches, W: 3 inches,H: 6 inches