Comfortable? Of Course! Flexible silicone frame and improved higher nosepiece provide extreme comfort that never hurt your nose or leave a mark on your face.

Fog-up? No! The inner surfaces of the lenses are anti-fog coated by the latest Environmental Treatment Technology which enhances the anti-fog ability of the goggles and does no harm to your face.

Leaking? No! Premium silicone material and Ergonomic design used on the goggles ensure a snug fit on different facial forms and never allows water leak in.

Stylish look? Absolutely! The colorful outer surface of the lenses with UV-Protection coating which enables the lenses to reflect harmful UV rays and protect your eyes from heat and damage of the sunrays. With the fashionable color, we strongly believe that the goggles are high-fashion and will make you stand out of the crowd.

High-Performence! Polycarbonate lenses stay strong even in the toughest conditions. Well-designed clasp make it easy to put goggles on and take off without pulling hair. Caution: customers who are allergic to silicone please don't buy this product.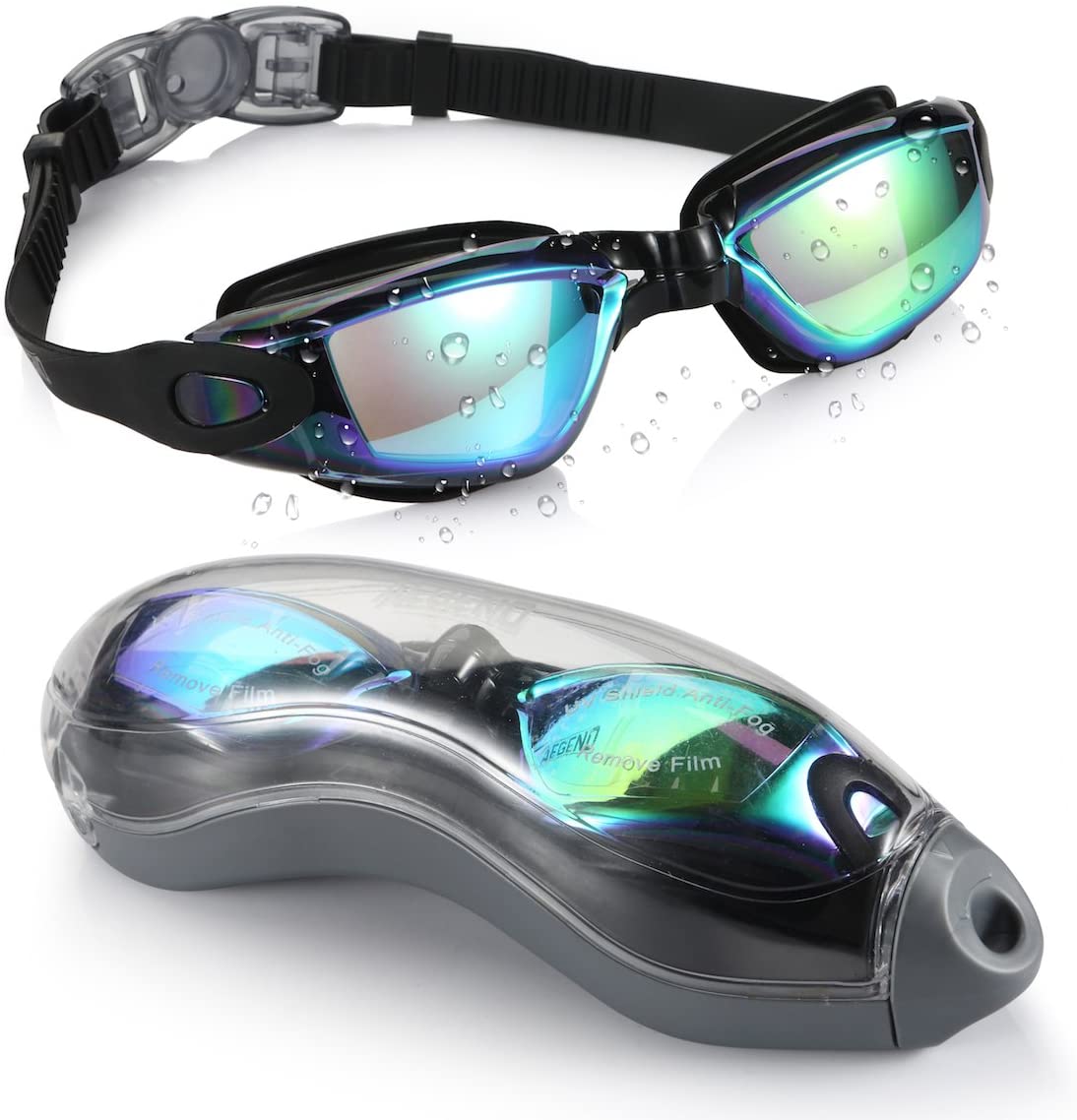 Features:
COMFORTABLE: Flexible silicone frame and gasket provides maximum comfort.

SHATTER PROOF: Polycarbonate lenses stay strong even in the toughest conditions.

Modified comfortable nose piece.

EFFECTIVE: UV protection and anti-fog coating enhances your swimming experience.

Convenient clip in the back.
Recommended Usage Scenario:
Mirrored lenses: Reflect light away from your eyes. Mirrored lenses provide a darker view. Suitable for swimming outdoors - especially in bright days swimming.

Tinted Lenses: Reduce brightness by creating a darker view during bright indoor and outdoor swimming conditions.- not suitable for bright days or dimly-lit environments.

Clear lenses: Offers protection and clear vision without changing the appearance of colors. - Ideal for indoor or low-light swimming situations.

Note: this model might be too big for some of the small kids. Please be sure to measure the kid's head before purchase.
TIPS for preventing fogging:
All of our goggles lenses are covered by an anti-fog coating. By following these steps you can make the anti-fog coating last longer:
Always remember to rinse the inside lenses so the coating can work. Put goggles in pool water for a while before swimming.

NEVER wipe the lenses.

After swimming, wash the lenses with fresh water and then leave it to dry.