Professional Multi-Bug Detectors for Gps Tracker sweeper, Spy Camera Finder, RF Signal Device, Gsm Signals, And More
All tracking, listening, and surveillance devices give off a unique frequency to relay whatever information is being absorbed back to another main device or central computer. This means that depending on the device, there will be a different frequency being emitted to relay this information.
★ Have you ever thought that your privacy has been leaked?
From Spy Pens that record live video to GPS trackers that attach to the bottom of your car, there is no shortage of bugs that can be used to track you. Most of them are designed to be discreet. Some are so compact that they can be hidden in nooks and crannies that you'd never think to check. Others are designed to look like harmless odds and end you'd already have to lay around your home. The variety between bugs is so vast that you'd never be able to visually identify them with complete certainty. But this doesn't mean that they can't be found.

★ Why Do I Need This Detector?
GSM, Bluetooth, WiFi, and DECT Bugs are commonplace these days. The ability to place these minuscule devices into everyday objects is an immense threat to everyday security and the privacy of an individual. These enable people to listen in on every single sound you make whether you're talking business or personally. These threats are not the work of science fiction they are threats that far more people are susceptible to than one would think.

★ What It Detects?
Professional Multi-Bug Detector for counter-surveillance work of anti sneak shot,anti-tracking, anti eavesdropping. It supports 4 Functions including RF Signal Bug Detector, Magnetic Field Detector GPS Detector, Camera Lens Finder Camera Detector, and AI Auto-Scan.
It detects GPS Trackers, Spy Cameras, Wireless Audio Bugs, RF Signal Bugs, Body Wires, Wiretaps, Mobile Phone Tapping, Magnetic GPS Tracking Devices,  and other Spy bugs
★

 SIGNAL TYPES DETECTED
GPS, GSM
WIFI, Bluetooth
Radio Frequency (RF)
★ Best Places to Use the RF Bug Detector :
AirBnBs, vacation rentals, and hotel rooms

Car, Office spaces, and conference rooms

Private meeting rooms

Bathrooms, locker rooms, and other spaces where privacy is an expectation
★ 

Product video
 

Portable & Lightweight & Simple to Operate

4 Detection Modes & LED Colorful Screen

Long Standby Battery & Sevice Warranty
★ SPECIFICATIONS
| | |
| --- | --- |
| Frequency Range | 1MHz-12GHz |
| Detection Dynamic Range | >73Db |
| Detection Sensitivity | ≤0.03mw(Main Frequency ) |
| 2.4GHz Wireless Camera | 25 square(standard 10mW camera) detection range |
| 1.2GHz Wireless Camera | 36 square(standard 10mW camera) detection range |
| Cellphone Signal 2G,3G,4G | 5--25 square |
| Magnetic Detection Sensitivity | 50mm--150mm |
| | |
| --- | --- |
| Indicating Method | 10 Level LED Luminous indicator /Variation sound indication |
| Power | Built-in 3.7V1500mAHlithium polymer battery |
| Working Current | 25-35mA Last Time:20-45H |
| Material | Aluminium Alloy |
| Volume | 125x52.5x21.5mm |
| Net weight | 175g |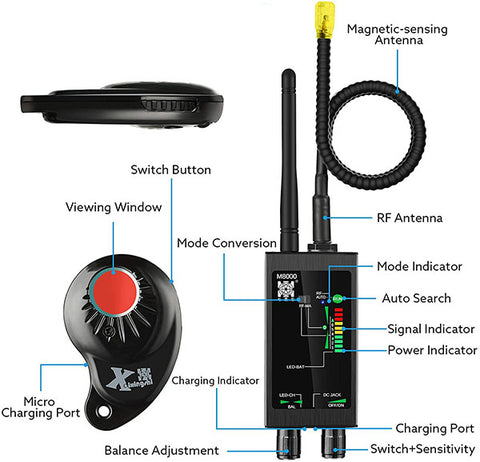 ★ What's Package Include:
Bug Detector * 1

RF Antenna * 1

Magnetic Detecting Probe * 1

Camera Lens Finder * 1

USB Charger * 1

USB Charging cable * 1

User Manual * 1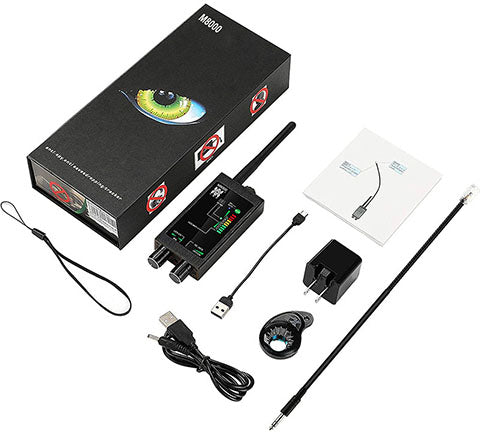 Protect your privacy everywhere, in any personal or business situation, with the portability of the Personal Multi-Bug Detector