★Are you looking for an underwater metal detector?
If so, you're in the right place! Here's my list of the best underwater metal detectors for both diving and shallow water hunting.
★ Where Will You Use the Detector?

Do you want a detector for saltwater hunting? If so, check out my beach detectors page for models that can handle saltwater.

Or do you want to go scuba diving with your detector? In this case, a fully submersible detector with a high depth rating is essential. Vibrating alerts can also be useful.
★ There's plenty of treasure trapped under the sea just waiting to be found.

Nothing beats the excitement of pulling a rare relic or gold nugget from hunting area.
Waterproof Metal detector provides a fully waterproof metal detector allows hunting in water,on land,or in any kind of soil,including black sand.The best part is that this detector is waterproof up to 100 feet so you can use it for snorkeling and scuba diving.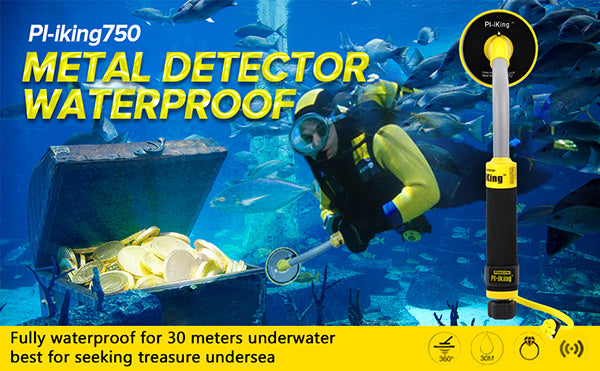 100 Feet Underwater Metal Detector
Fully waterproof under 100 feet water, with LED light when you found something when diving, Accurate identification and feedback.

★ Product video
▲

 FULLY WATERPROOF PIN POINTER
▲

 HIGH SENSITIVITY AND DETECTION DEPTH STABILITY
▲

SEALED CONSTRUCTION AND UPGRADED DESIGN
★
SPECIFICATIONS
| | |
| --- | --- |
| Waterproof | 30 Meter deep |
| Frequency | 20.28 KHz |
| Current: Standby | 10mA; Max: 130mA |
| Voltage | 9V Battery(Not included) |
| Sensitivity | US 25/50 Cent: 50mm; One Coin: 60mm |
| Colour | Black & Yellow |
| Indication Mode | Vibrate Mode; LED Mode |
| Package Dimensions | 20 x 5 x 5 inches |
★
HOW TO USE
Hold the machine vertically and wait for 2~3 seconds, the machine will vibrate, and the light in the middle of the probe will be on, that is, it will be turned on successfully. The shutdown is also vertical and steady, and will be turned off after waiting for 2~3 seconds. During the detection process of the machine, there is no sound, and the metal is detected to emit a vibration reminder.
1 x Metal Pinpointer Detector (Batteries are not included)